About Angela Murphy
I am a Texas Licensed and ASHA certified Speech Language Pathologist. I have been serving students with communications and other special needs for over 20 years in public special education and mainstream classrooms, home settings, and daycare centers. My education and career took me from UT Austin to Kansas to Arkansas and back to Austin. Starting my own practice in the middle of pandemic was a leap of faith, and I am grateful to be able provide a safe and supportive therapeutic environment to serve my clients and their families.
I really enjoy treating clients with a wide range of needs and diagnoses including: Apraxia and other speech and phonological disorders, Myofunctional disorders, Autism Spectrum disorders, fluency disorders (stuttering/cluttering), social cognitive and social skills difficulties, sensory processing challenges, receptive and expressive language difficulties, language processing difficulties, narrative and written language difficulties, and history of developmental and/or medical trauma.
In my free time, I love spending time with my two dogs Bodhi and Josie, trying new recipes, gardening, and learning new things.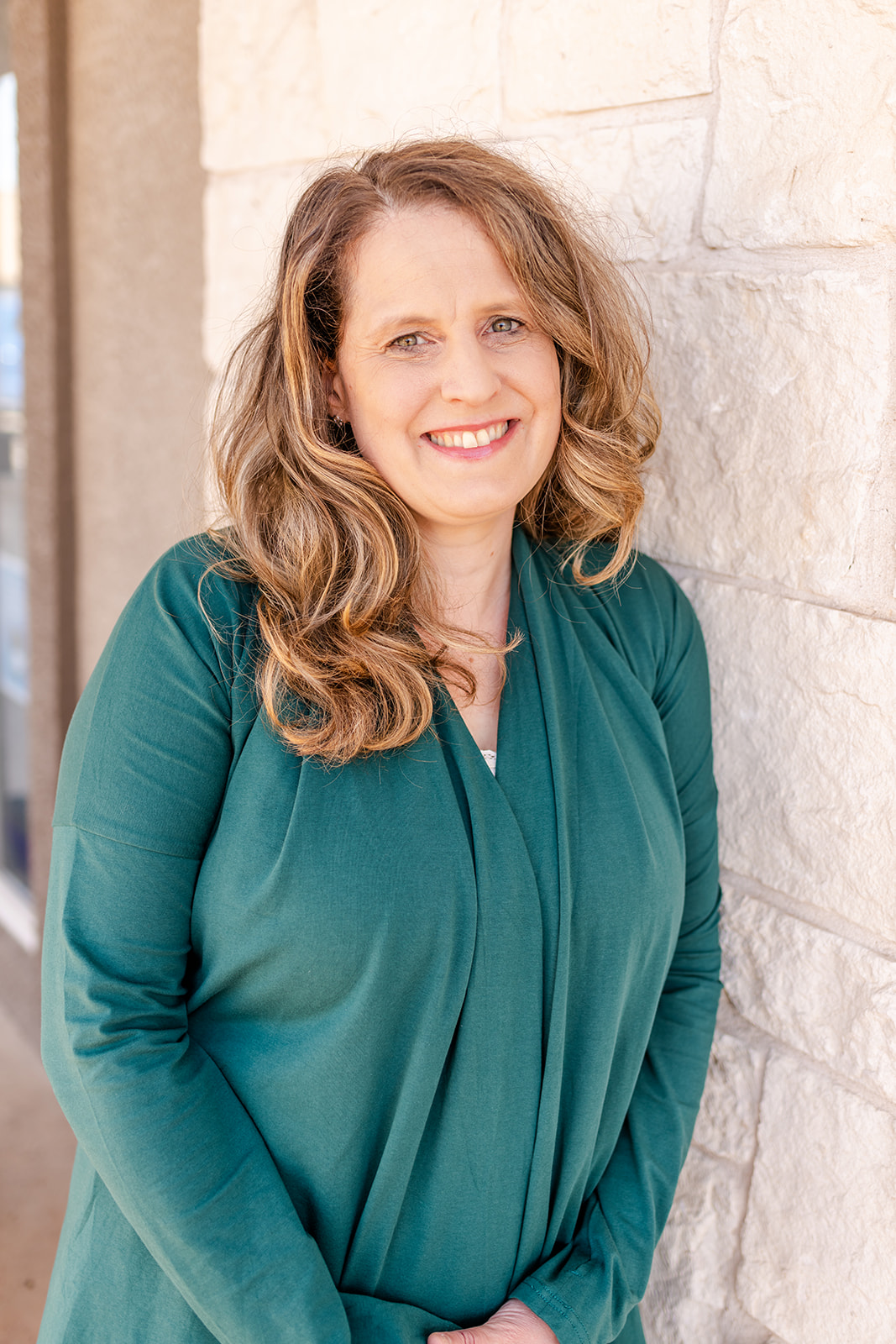 My Philosophy and Approach
I have a large toolbox and believe in using a wide variety of tools to assist with communication, language, speech, social skills, and regulation – based on the need of each client. I believe in treating the whole person in therapy. I also believe that parents and caregivers and often clients themselves are the experts on what works for them. My job is to observe, to listen, and to identify what is important to each client and family and then to assist with figuring out how to get there. I believe in creating an environment of safety, attachment, emotional connection, regulation, and collaboration. I also believe in engaging clients in play, lightness, movement, and humor. Science tells us that when we are regulated within ourselves, we can better engage with others and the world around us, and we can learn more easily.
My goal is to help each client to become more engaged, more regulated, and stronger communicator in their day-to-day life. I believe in working closely with parents, caregivers, and the client's team to help create the best overall outcome for each client. Caregiver and family training is an integral part of my work and I work best with clients and families who really want to take a hands-on approach to help create carryover and change.
My Journey
I grew up in Houston, Texas and spent my younger years playing soccer, singing in choirs, and doing Girl Scouts. I also had 6 surgeries in 6 years from ages 5-11. I had a strong interest in how humans communicate early in life and that combined with my own personal medical trauma led to my combined interests in Speech Language Pathology and assisting others to heal their trauma.
I received my undergraduate degree in Communication Sciences and Disorders at The University of Texas at Austin in the Fall of 2000 and my graduate degree in Speech Language Pathology at The University of Kansas in 2002. The semester between undergraduate and graduate degrees I worked as a one-on-one educational aid for a child with autism in a preschool program in Round Rock Public Schools. During this experience I learned a lot about how to create and implement personalized instruction, how to assist with inclusion, how to collaborate with a team, how to assist with sensory integration and regulation, and how to assist with behavior.
In graduate school, I participated in a two-year specialized Autism training grant involving students in both Speech Pathology and Special Education. During the two years I received additional course work and was paired with a family who had a child with autism where I provided respite care for the family and helped in various capacities (e.g., attending swimming lessons, being a Boy Scout leader, providing one-on-one care in family events). During this time, I began to understand the importance of listening, meeting people where they are, and finding out what was important to a family and their goals when working with their child.
After graduating with my Master's Degree, I worked six years in the public schools in Kansas and Arkansas, in settings ranging from self-contained classrooms for children who had autism, to individual and group pull out sessions, to mainstream classrooms. While in Arkansas, I also ran a private practice specializing in providing group therapy for children with social communication challenges. During my time in the schools, I learned the importance of flexibility, lightness, and humor as often things would not go as planned. I also realized that if children do not have basic needs met, including needs for safety and attachment, it is very difficult to help them to learn language, speech, communication, or to help them to successfully engage with others.
After my time out of state, I moved back to Austin and treated in an outpatient multidisciplinary clinic where I learned the importance of treating the whole person and how sensory integration difficulties can affect communication, language, speech, and social skills.  Before going into private practice, I worked in home health which placed me in homes, daycares, and preschools. During my time treating as a home health therapist, I realized the impact that home environment, caregiver attachment, and medical and developmental trauma could have on clients. I sought out training to further my understanding and ability to treat clients who might come from hard places or have experiences of trauma. I chose to shift into private practice full time to create a unique environment where I can look at communication, language, speech, and social through the lens of regulation and the nervous system.
Credentials and Training
Texas Licensed and ASHA certified Speech Language Pathologist
Somatic Experiencing Practitioner
PROMPT trained (Intermediate Level)
Trust Based Relational Intervention
Michelle Garcia Winner Clinical Training Internship San Jose California and Trainings (Listed below)
(workshops attended: Addressing the Needs of Children with Autism Spectrum Diagnosis: Teaching Social Thinking and Social Skills at Home and at School, Organizational Strategies, Carol Gray and Michelle Garcia Winner, Teaching Social Thinking to Individuals Entering the Adult World, Looking into the Mind of ASD and Like Disabilities and Teaching Beyond the Think Social! Curriculum: Addressing Preschool, Anxiety, Superflex and Emerging Perspective Takers)
Therapeutic Listening, Vital Links
Building Blocks to Sensory Integration, Vital Links
MNRI Dynamic and Postural Reflex Pattern Integration, Svetlana Masgutova
Advanced Apraxia of Speech Workshop, Once Upon A Time Foundation, Dr. Edythe Strand
Orofacial Myologist (International Association of Orofacial Myology, Level 1 Course certification track course)